That Time #IfHitlerWasAlive Was Trending In Pakistan
Over 4,000 tweets.

#IfHitlerWasAlive was trending in Pakistan on Tuesday, rising as one of the top hashtags before losing some online support (and provoking outrage) on Wednesday.
Some on Twitter have been viciously attacking each other over the fighting between Israel and Gaza — and #IfHitlerWasAlive brought out some of the worst of those hate-filled responses.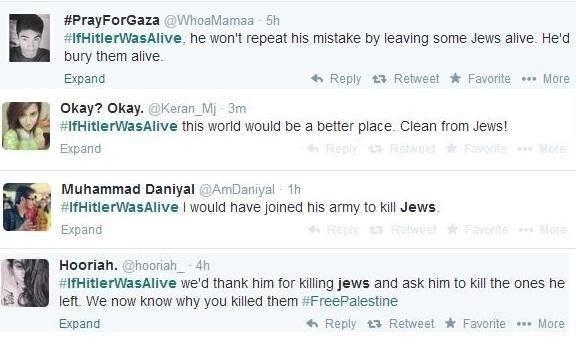 Raquel E Saraswati @RaquelEvita Follow
#IfHitlerWasAlive is trending in #Pakistan, and it's not about resisting Nazism. I feel sick. HT @aliamjadrizvi
Friends in #Pakistan, just heard #IfHitlerWasAlive is trending there. Please try to be critical of the government, the policy, not the race.
Some pointed out that ideologically Hitler was also no fan of Arabs and Muslims (and Asians and Africans, and really anyone besides himself).
Isn't irony great? #ifhitlerwasalive 90% of the morons using this hashtag in support of Palestine wouldn't be. #fuckthisplanet
Read more: http://buzzfeed.com/miriamberger/that-time-ifhitlerwasalive-was-trending-in-pakistan
---
---